The BIRO Academy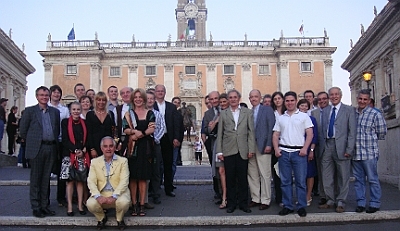 The BIRO Academy is the major dissemination activity of the EUBIROD Network started in 2008 with the aim of disseminating the methodology and and use of the BIRO system, how it is defined, the results that can achieve and the way this approach evolves.
The Academy provides a direct opportunity to interact with a growing international network of distinguished professionals with a high level mix of expertise in the fields of health policy, clinical practice, biostatistics, epidemiology and information technology.
The BIRO Academy organizes meetings through which it directly allows developers of diabetes registers to learn from success stories in the field of electronic medical records, participating to the further expansion of global data collection to monitor diabetes on a continuous basis. By promoting the adoption of the independent use of the BIRO approach, we aim to directly link providers to the final users of diabetes indicators.
Through the joint support of the European Commission and other collaborating institutions, we aim to favor the construction of a European Diabetes Register capable of spreading its benefits and collaboration well beyond the continental boundaries.
By disseminating the BIRO approach among partners of the EUBIROD Network, the Academy paves the way for further organizations to join a global platform for the open exchange of knowledge and software.
For this purpose, the BIRO Academy welcomes all third parties interested in "building a common European infrastructure for standardized information exchange in diabetes care, for the purpose of monitoring, updating and disseminating evidence on the application and clinical effectiveness of best practice guidelines"
Strategy
The Academy website makes available all materials produced during the various Courses and events organized by the network by means of multimedia, including slides, videos, demo applications, software and other training materials.
In the framework of the BRIDGE Health project (2015-2017), the BIRO Academy organized one meeting in Larnaca with two targeted sessions on privacy and diabetes data analysis using the BIRO system. Further, one meeting was supported by the University of Surrey in Guildford in 2015.
In the framework of the EUBIROD project (2008-2012), the BIRO Academy provided a series of three Annual Residential Courses structured in lectures and practical sessions, where participants get acquainted with the usage of diabetes data and application of the BIRO system. Two additional meetings were also organized, including training sessions.
The BIRO Academy includes also an e-learning platform that contains self-administered tests and questionnaires to evaluate the effectiveness of the training activity.
Contributing Institutions
The EU EUBIROD and BRIDGE Health Project have been co-financed by the European Commission, DG Health and Consumer Protection through the EAHC Agency (Executive Agency for Health and Consumer Protection).
Annual Residential Courses in the EUBIROD project have been fully supported by the Dasman Center for Research and Treatment of Diabetes, under the auspices of the Kuwait Foundation for the Advancement of Sciences. Co-funding for the Coordination of the EUBIROD Project has been also provided by Regione Umbria.